The next few weeks sees two things happening that could make your working life easier and more rewarding. (That's more gain for less pain!)

I have launched the Women's Accelerator: Achieve your 12 month goal in 12 weeks.

What do you want to achieve this financial year? Together, we can get it done and you can be celebrating.



Also, over the next few weeks, I'm going to share with you everything I know about how to achieve a goal. So if you've ever wanted to do something and maybe can't muster the courage, or you make a start but can't keep it going, or are just a poor finisher, the next few weeks are for you.

We know so much about how the mind works now, especially about what drives behaviour, that 'try harder' is no longer our mantra. We can 'try smarter' instead.

Despite what you may think, willpower has very little to do with it. And if like me, you're not hugely self-disciplined, it should come as a relief that you don't have to 'force' yourself to do things – though you will be encouraging, programing and inspiring yourself to do them. Use the mind hacks from the Achievement Accelerator below.

The 9 box matrix I've developed covers Starting, Building and Maintaining Action as well as working with Internal Forces, External Influences and Structural Support.

The Achievement Accelerator Toolkit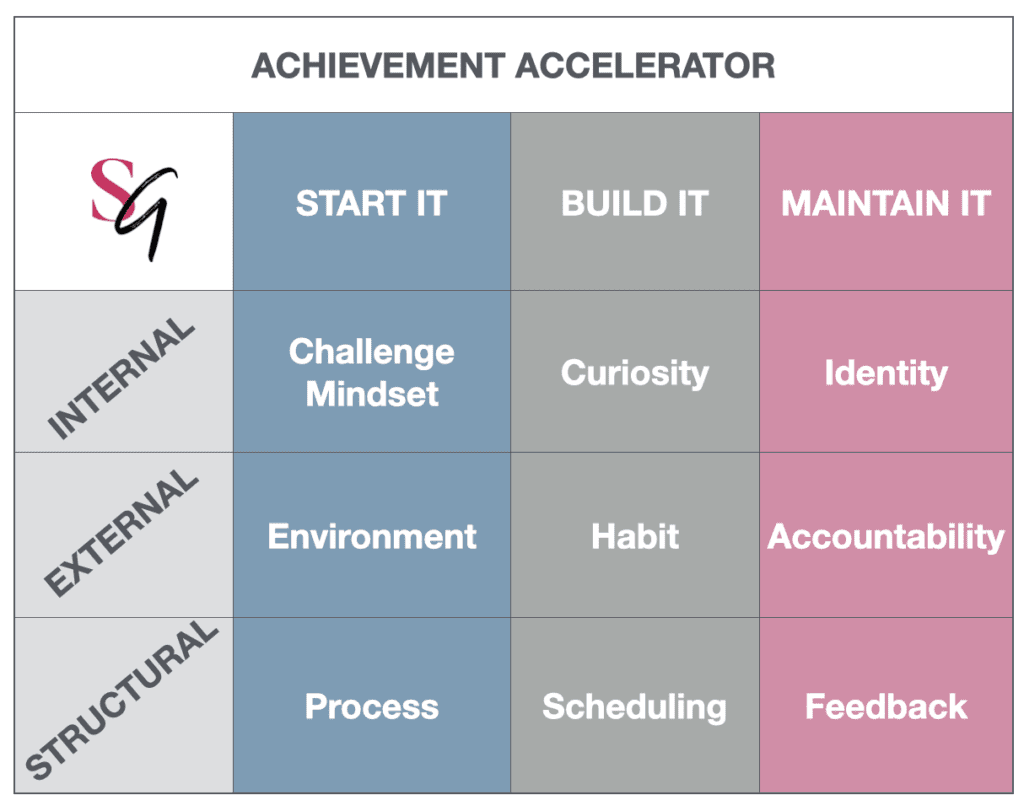 These tools are there to make it EASY to achieve your aspiration.

Instead of struggling and beating yourself up, these tools make a difficult task easy so you're more likely to succeed with far less effort.

There are three boxes of tools we can use – and the more we use those skills and the more skillful we are at using them, the more successful we will be.

INTERNAL

Mind hacks that you work internally.

Created by using your mind consciously.

By getting your head in the right space, they lay the foundations for moving forward.
EXTERNAL

Ways to circumvent decision-making by creating automatic behaviours based on what's happening around you.
STRUCTURAL

Ways to plan your journey so you're prepared for the hurdles and you can acknowledge your progress.

Each step consists of the processes that will get you there.

3 TOP TIPS TO HELP YOU ACHIEVE YOUR AMBITIONS
1) Stop selling yourself short The first step is to acknowledge that you can live a more fulfilling life and you're entitled to it.
2) Try it Is it too obvious to say we don't know what we can do until we try? And let's couple this with not expecting to be brilliant at something the first time. We need practice. Give things a go!
3) Check out my Women's Accelerator Program Seriously, take a look (click box above). Women are achieving such great results and with so little effort it's a no-brainer. If you want to do something but need some support, and a few new skills then jump right in and start enjoying the results immediately. It's much easier than you think and more fun too.