The Fantail Restaurant (now Chapter One) on Farnborough Common was the epitome of 1970's sophistication. Tinkling music, padded armchair seating, burgundy velvet lampshades, dimmed lighting and long starched white linen table cloths.   Sports cars and Rolls Royces filled the car park.  Women were relieved of their furs at the door, their hair-do's a work of art that would have taken their hairdressers all afternoon to create.
At 12, I lied about my age to get my first job there, serving coffee and plates of petit fours to replete guests on Friday and Saturday nights.  Despite my lowly status (or perhaps partly because of it) it might be the best job I ever had.
So what was it that made serving coffee in this place so wonderful? The opulence of the place, the guests, the food were always a pleasure, of course.  But that was by no means all.  In reality, this was still a suburban restaurant serving mainly new-monied clientele. It wasn't a hatted establishment in Soho.
But I loved that I was part of a grown-up team who always respected me and were kind to me, and that I had my own little area of authority. I honed my skills, learning to carry 5 cups and saucers with tinkling coffee spoons securely on the palm of one hand and to pour coffee and hot milk without spilling. I was made to feel I belonged in the place and to the team I was proud to work with. Our job was to pamper our guests and we did it well and with pride.
I grew up with restaurant folk – Italians and Spaniards who came over after the war working themselves up from waiting tables to maître d' and eventually opening their own modest places.  I watched them working all hours, constantly anxious, nursing ulcers. It looked glamorous but it was a tough life.
Like other waiting staff, my time was split between restaurant and kitchen. While the restaurant was calm and organised, the kitchen was a loud, hot, crazy place that raised feasts from the firmament.  The heavy swinging double doors protected the peaceful restaurant from the insanity inside and it was just as well it did.
The banter in the kitchen was fantastic, with waiters speaking and swearing in combinations of their native Spanish, Italian and Portuguese, sledging the mainly English chefs, throwing 'the last word' over their shoulders as they burst back into the serenity of the restaurant and glided towards their tables, and the chefs coming back at them when they crashed back through the doors on their return.  It was fiery, relentless, and always good humoured.
Not a drop of the bedlam of the kitchen escaped into the restaurant. The waiters never failed to be genuinely attentive, amusing and indulgent to guests while being dramatic, explosive and merciless in the kitchen.  I loved it.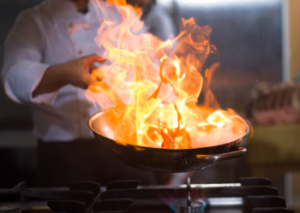 Like all 70's restaurants, theatre was essential.  The wheeling-in of various gleaming brass trolleys was greeted with gasps of 'ooooh!' and 'wow'.  With flair and aplomb the waiter would create a steak tartare, finishing it with a shiny yellow yolk, or enflame a crepe suzette with a burst of fire that I thought would singe the ceiling, or present the pièce de résistance – the three layered dessert trolley –  ladened with pears in red wine, oranges in Grand Marnier, perfect pear tarts, black forest gateaux, tottering mountains of profiteroles dripping with chocolate sauce, and a whole world of cheeses. It was only after this, when the ladies lit cigarettes and the men sometimes cigars, that it was my turn to conclude the theatre with my coffee and petites fours. There's not much to serving coffee really, but I felt the responsibility of it at my young age in such an adult environment.  My recollection of it was of tables of glamorous people talking and laughing comfortably, leaning back in their chairs.  Sometimes they were deep in conversation, sometimes they beamed at me, chatting to me as I poured.
I got paid out of the tips and went home happy and exhausted, and looking forward to my next shift.
So what do I learn from this?
1) The joy of service.  We all serve someone. In essence we serve each other. It's something we can feel good about when we do it well.  What more can you do to serve?
2) The importance of belonging: Despite being a different generation to everyone else, they included me in their conversations, supported me in my work and never hung me out to dry.  I learnt that a good team is there for each other, doesn't whine or bitch and can laugh at themselves. How can you help others belong more?
3)
The pride of autonomy:
I knew my responsibilities as well as my tasks and how to perform them.  Nobody micro-managed me.  At the end of my shift, despite this being a small task, I could feel it was done well and when the boss said thanks and handed me my money it gave me self-respect. Can you delegate responsibility rather than tasks?
4)
Knowing Your Purpose
:
At The Fantail, we knew our purpose was to pamper.  Other restaurants might be about delighting the tastebuds, others about reliability, others about a certain cuisine.  We pampered egos and senses with dedication.  What is your true purpose in the organisation?
5)
People buy Experiences:
Adobe CEO Shantanu Narayen says people buy experiences, not products.  This may be particularly true of restaurants and other forms of entertainment, but it's true of all work/working relationships.  Nobody delivers it like you. What is the experience you want others to get from working with you and your team?